Eyewall Armor™ Colonial Shutters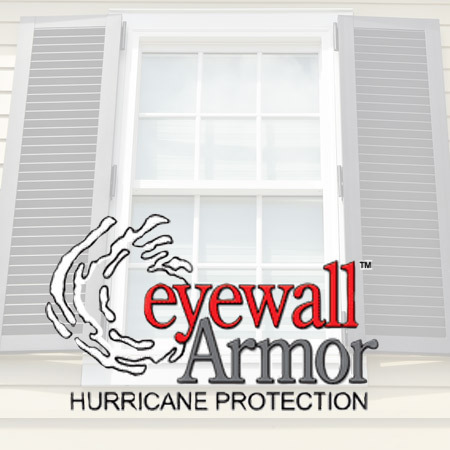 With our Eyewall Armor™ Colonial Shutters, you not only get top-of-the-line storm protection against hurricane force winds and debris, you also add to the aesthetic appeal of your home. The Colonial shutters are easily installed on both sides of your windows. They will give your Florida home the classic look of the old school shutters, but with added functionality. These highly durable and easy to operate multifunctional shutters remain virtually maintenance-free throughout the year.
The Eyewall Armor™ Colonial Shutters have undergone rigorous testing to meet, and exceed, the Florida Building Code standards. Resulting benefits include insurance cost cuts and an increase in your home's property value. They also greatly enhance the security and privacy of your home. You control the level of privacy, allowing the opportunity to minimize light and sound penetration, which can decrease utility bills by increasing your energy efficiency. The best part is that these shutters are easily operated, securing your home in a matter of seconds by only one necessary individual, no matter how many floors they exist on.
Technical Information:
Increase aesthetic appeal and property value.
Practically maintenance-free, year-round.
Homeowner friendly operation and lock-down procedure.
High quality storm and hurricane protection.
Improved privacy and security.
Increased energy efficiency with light and sound control.
Sliding mount enables inside locking - ideal for 2nd story operation.
Hybrid option permits both patented articulating louvers & solid louvers in the same frame.
Hinged models feature solid 7/16" high strength aluminum hinge pin.